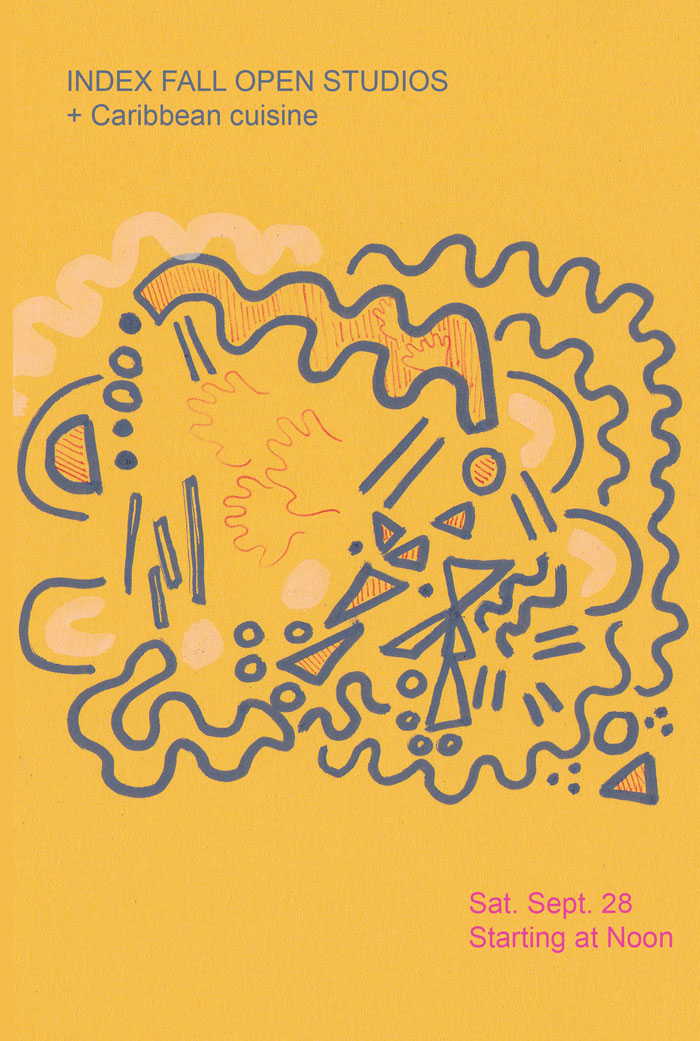 Please join us Saturday, September 28th for IAC's Open studios event, enjoy some delicious Caribbean food and meet some of Index's resident artists!
IAC's artist residencies and studios are located on the first and third floor of our building.
Index's resident artists are:
'Art & Artifacts of Newark' (Matthew Gosser), Patricia Dahlman, Diana Palermo or Luisa Pinzon, xplorefreedom, 'Fern and Fossil' Samantha Katehis, Kevin Durkin and Jeffery Koroski, 'and / or' Colin Sheilds, Jillian Rock and Aollani Wilkinson, Agnes Deja, Sally Helmi, Kristian Battel, Peter Dougherty and Jillian Keats
Also on view :
FIRST FLOOR: (233 Washington Street)
'Art & Artifacts of Newark' is a part of IAC's curatorial residency program featuring works and art exhibitions curated by Matthew Gosser.
"O"
Works by Abigail Diecidue, Jezreel Deseo, Bhakti Gundani, Chai Evaline Silva, Yoshimi Suzuki
Curated by Chai Evaline Silva and Noelle Park . Performances by: Joohee Choi, Misook Mendonca, Abigail Yashiro, and Diona West and The Lovenauts
ALSO on view on first floor- Music videos by local artist's and musicians!
SECOND FLOOR: (237 Washington Street)
Main Space: Bringing It All Back Home
Index Art Center presents Bringing It All Back Home, a group exhibition of six artists exploring the concepts of home, and what it means to come back to a place. Each artist brings a distinct visual language to the exhibition as they explore personal and social narratives within their work.
Curated by Colleen Gutwein O'Neal – featuring works by
Lance Rautzhan, Patricia Dahlman, DongKyu Kim, Matthew DiLeo
Juno Zago, and Devyn Nuñez
IAC Side Gallery:
F&F X Nork Project Pop Up
Admission is free and open to the public.
This event is sponsored by our neighbors 27 Mix and Kilkenny AleHouse
Cover image by Sally Helmi
—
Index Art Center
233 – 237 Washington Street
Newark, NJ 07102
www.indexartcenter.org
index.gallery@gmail.com
Gallery ph. 862-218-0278