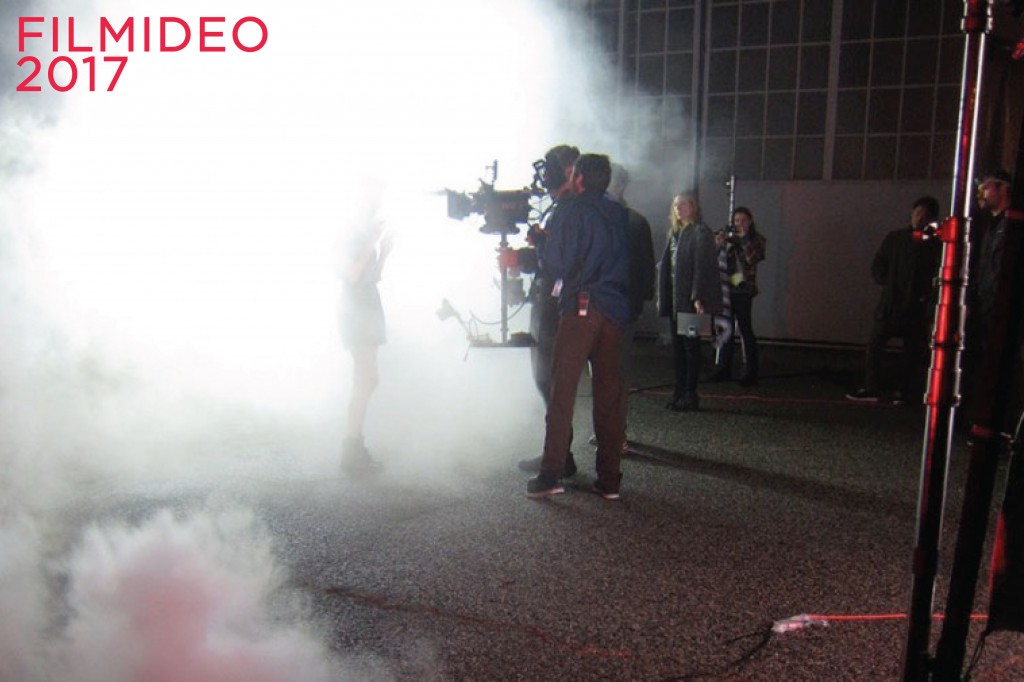 Filmideo Day 1
Stephen Douglass: Siege Device. Sorry… (NJ)  :49 sec
A 'Siege Devices' attempts undermine the integrity of the of the structure of communication constructed through the word and the image. This structure fixes the belief in our given reality system. It captures, confines and determines our behavior through representationalism.  This device is deployed in the conflict as a response.
Nicole Rayburn: Last Contact (Canada) 3:26
Humanity's fascination with Mars is lengthy and pervasive – fantastical stories and interstellar dreams feed the industry of space exploration, making science fiction become science fact, and the boundary between human and machine ever more entwined
Eri Honda:  Stop Motion Dreamy Journey (Japan and NYC) 5:13
The concept is a fantasy animation depicting various characters coming to life from childrens' imaginations.
Elizabeth Tolson: Vessel  (Brooklyn, NY) 1:24
Vessel is a series of dresses specially designed for the female body. Using cutting edge technology embedded into the fabric these garments are able to monitor the actions and physical well being of the female. The unique design of the Chastity Dress helps young women become more aware of their behaviors. LEDs embedded into the fabric which release a warning by lighting up when the woman is touched inappropriately. The Fertility Dress responds to internal stimulus and changes colors based on menstruation cycle and the cleanliness of the wearer. The dress turns blue when ovulating, red when menstruating, and glows white with excellent hygiene and yellow with poor hygiene. 
Saeed Naghavian: Refugee Camp (Iran) 1:44
 In this innovative low-tech film, the complicated issue of refugees is made simple. An exploration of war, immigration, and humanity.
Kit Langton: Music by Sparkly Old Man "Lunar Racket" (NY-NJ) 4:03
It's a music video for a song I made. It's cobbled together from many old videos. Whee.
Tiffany Joy Butler: Cosmic Call (Bronx, NY) 04:48
Cosmic Call depicts two revolutionary black femmes that are searching for an oracle in order to start a movement against a pharmaceutical company that is increasing the inhabitants' addiction to a cream that lightens skin tones.
Alverson Layne: PAVLOV (NEWARK, NJ) 2:46
In a culture of "reward-by-notification" where communication is incentivized by blips (sounds and alerts) via social media channels, how much of our actions are controlled by the conscious mind? Is are our technology a tool for freedom of creative expression or an instrument of control and subjugation?
Kasia Skorynkiewicz: Society is a Cult (Jersey City) 4:18
Scientology protest in Los Angeles shot on 8mm black & white film, edited with spill footage shot digitally.
Deborah Kelly: LYING WOMEN (Australia) 3:55
The animated collage LYING WOMEN considers the material qualities, ideological and financial authority of the reproduced work of art. LYING WOMEN imagines canonical reclining nudes' escape from centuries of servitude to colonial heteropatriarchy. The work proposes a great gathering of queer female energy, a revolution, a collective movement toward autonomy.
Gili Noyman: SOUNDS of Discontent (Israel) 2:49
A condensed version of the intense social unrest that swamped the streets of Tel Aviv for 2 years (2011-12) A visual assay conveying the changing sentiment of the unrest through its "sounds."  The video's sound track is based solely on what has been recorded on the streets.
Irena Ristic: SELF-SCAPE  (Serbia) 8:18
SELF-SCAPE / AUTOPEJZAŽ is a postdramatic film experiment by Irena Ristic, conceived as a journey to axiological and political self awareness. Looking for the spots of particular statements about the position in the world, about friends, about ownership and possession, about marriage, about humor, about hope and revolution – the author tries to respond to few questions, that have never posed to her. The boundaries between what is hers and what is considered general have been shifted. The question remains whether it is her personal view authentically hers, or common, generic far more than she assume or she wish it to be.
Easmanie Michel: Minutes to Say Hi (Brooklyn, NY) 4:12
A story about a Haitian girl, Maggie, who finds herself transitioning to womanhood shortly after she and her father attempt to establish themselves in Brooklyn, NY while Maggie's mother is left behind in Haiti. In a nonlinear, recollective narrative the story moves fluidly through time revisiting significant moments in Maggie and her Papa's early experience of adjusting to their new life, as well as to the glaring absence of Maggie's mother.
Carlotta Piccinini: TALE OF MYSTERY (Italy) 5:02
Kathleen McDermott: Urban Armor # 2 The Personal Space Dress (NY) 2:11
 A dress with two proximity sensors and a plastic armature that allows the dress to expand when a person comes too close to the wearer. The dress is the second in a series of wearable electronics for women, playful artworks investigating the relationship between technology, the body, personal and public space.  The pieces are documented in partially-staged, partially-spontaneous performance scenarios. Tutorials for many of the pieces in this series are hosted at urbanarmor.org
 INTERMISSION
William Oliwa: Fishing and Bigfoot (NJ) 2:38
Reut Ferster: Sagi (Israel) 8:50
A mockumentary following the fictional story of my brother Sagi, a partner at my family's shop, who decides to take my place and become an artist. The video depicts the various steps in his "career", while commenting on the state of contemporary art and the artist's role within it.
John Mutter: How To Avoid Being Detected (Canada) 3:37
Using suction cups or toilet plungers to scale walls is a tactic used repeatedly by cartoon characters when sneaking into a buildings.  "How To Avoid Being Detected" is a specific reference to an episode of The Simpsons where Mr. Burns and Smithers break into the Simpson house using suction cups as tools to climb onto the ceiling.  The plate of corn chips in this scene is also a reference to a common technique used in animators when looping segments.  The man eating the chips will always reach behind the pile for a new chip, allowing me to loop his portion of the video without fear of the pile of chips changing when the loop repeats itself.  His obsession with his phone leaves him distracted and oblivious from eminent dangers.
Nathaniel Sullivan: Before The Nation Went Bankrupt- Letter to Lover 1 (NY) 4:41
Before the Nation Went Bankrupt is a series of videos that tell the story of the financial crisis through the fictional love letters of JP Morgan Chase CEO Jamie Dimon. The video is in part a history of our current financial crisis, a conflation of romantic love and finance, and an exploration of the impulse to dominate. Not quite fiction and not quite satire, the letters are a cry in the dark from an insular world that brought us all to the brink of financial, physical and moral ruin.
Isabella Cruz-Chong: EXHALE Inspired by Line of Breath by Isabella Cruz-Chong (Tijuana, Mexico and Brooklyn) 7:40                                                       A look into Line of Breath, a sound installation by Isabella Cruz-Chong set in Tijuana, Mexico at the United States-Mexico political fence. The film depicts the fence, its breath, and personal perspectives from the community. This is an attempt to humanize the physicality of the object in order to redefine the connection between both sides.
Brian Ratigan: A Stones Throw Away (Brooklyn) 3:15
Drowning in isolation, a lonely soul finds a machine that can render artificial nostalgia for a price.
Simon Welch: Capsule (UK based in France) 9:49
A complicated birth in a French maternity hospital is the subject of a film presented as though it were a time capsule and a future birthday gift. Through this real event, the film explores the notion of cinematic realism and the aesthetics of suffering, while delving into family and cinema history. 
Peter Mack: Depressed Animation (Northampton, MA) 3:17
A "not thinking" animation with narration by the artist.
Kelli McGuire and Eric Durkin: music by Fascinations Grand Chorus "Welcome" (NJ and NY) 3:14
Patrick Moser: Running Inside (St Augustine, FL) 1:21
Hearty White: Hearty Yard Dash (Florida) 2:07
Jordan Marty: Ouroboros (Richmond, Virginia) 2:18
Originating in Hialeah, Florida, the album cover of Blowfly's "Zodiac Blowfly" depicts a zodiac chart over which 6 names have been notated in presumed accordance with individual astrological sign. Amongst images of various sexual positions, evidence of the album having once been used as an impromptu dartboard is also apparent. By treating said album sleeve as artifact, "Ouroboros" isolates and amplifies the traces left from the ritualistic transcription that took place decades prior, re-performing said act in a perpetual loop during the course of its exhibition.
And / Or: Tight-Pants (Newark, NJ) 6:33
A genuine woman is driven mad by her TIGHT PANTS. A Sneak Peak of the upcoming short film anthology, Sugar Honey Iced Tea.
 INTERMISSION
Jessica Ellis & Aaron Francis: Podium (Brooklyn, NY) 1:03
Hearty White: The Furnace Guy, The Banjo, and Hearty (Florida) 2:13
Peter Mack: Dots (or -Dabs-) with Unintended Strobe Effect (Northampton, MA) 1:22
Painted dots (or dabs) animation with occasional disclaimers/thoughts by the artist.
Cornelius: Bubblegum Booty Blast (Ringoes, NJ) :39
The subject of this short animation deals with the difficulties of everyday life–in this case, a hard day at work. It demonstrates how to deal with a difficult situation in a very playfully dark way within an imaginary world.
Josh Tuthill: The Sexual Practice of Trees (Soquel, CA) 8:24
A scientist sets out to discover the reproductive methods within the Plantae Kingdom.
Genadzi Buto: 283 FROGS (Belarus) 1:13
What will be if you quickly flip through 283 photos of squashed frogs?
Billy Sims: New Tempo Rubato (Chicago, IL, USA) 3:03
The images used for this animation were collected from Google Image searches. Priority was given to images with explicit commercial intentions. Many are from advertisements, magazines, stock photo collections and celebrity publicity shoots. This selective process was intended to filter down the immense range of images readily available to just those that were created for some type of public eye – images that wanted, compositionally, to be seen.
Daniel Alexander Smith: Anna (MA) 1:26
This video explores the physical and spiritual dissolution of an individual whose image is scanned and virtually reconstructed as a digital doppelganger.
Divya Gadangi: Medical Spaces (NYC) 3:14
A randomized multichannel video created using a custom made script in Max/MSP. The video varies in length and edit each time it's played live, shown at an event, or exported- resulting in interesting patterns, flexible runtime and a work that is ever changing and never the same. It features big comfy spoilt fruits, sick people, breasts and jello. A different version of the video has shown at Beep Bop Boop, Fat Village Projects, FL – curated by Leah Brown and Peter Symons and Lumen Festival, NYC – curated by David C. Terry. It is also featured in the video library at Bandits-Mages in Bruges, France.
Jonathan David Smyth: Flat Line  (NYC) 1:00                                                When I first moved to New York, I slept on an air mattress for six months. When I could finally afford to buy a real bed, I took the mattress to Coney Island and embraced its flaws.
Noelle Lorraine Williams: Homesick (Newark,NJ) 4:42
From  the  project "genocidal music:remix"  as apart of my Black Women's Fairy Tale Museum – this project through an essay, video and sculpture examines the way that culture in the United States is manipulated to destabilize communities – particularly African American ones.
Christopher Willauer: Coitus Interruptus-A Dismembered Autobiography (Brooklyn, NY) 3:04
Coitus Interruptus is a cutout animation that I created as a means to explore my identity as a queer male raised in a Catholic family. I hoped to engage with certain anecdotes that are particular to myself but topics that demonstrate violence and oppression that could be widely understood. A combination of rage and longing led to this animation's creation. Coitus Interruptus works as an interruption of heteronormativity through a call to anger and hope.
Monika Rostvold: Dancer (NY) 3:17
When I was 20 i worked as a gogo dancer. My work discusses the psychological affects obtained from being objectified, degraded and exploited during that period of my life.       
Devin Thomas: Thiaroye By The Sea (Brooklyn, NY) 16:06
Amidst the urban frenzy of Dakar, Senegal's capital, one young woman struggles to find her voice through rap as she contends with the pressures of poverty, tradition, and religion.