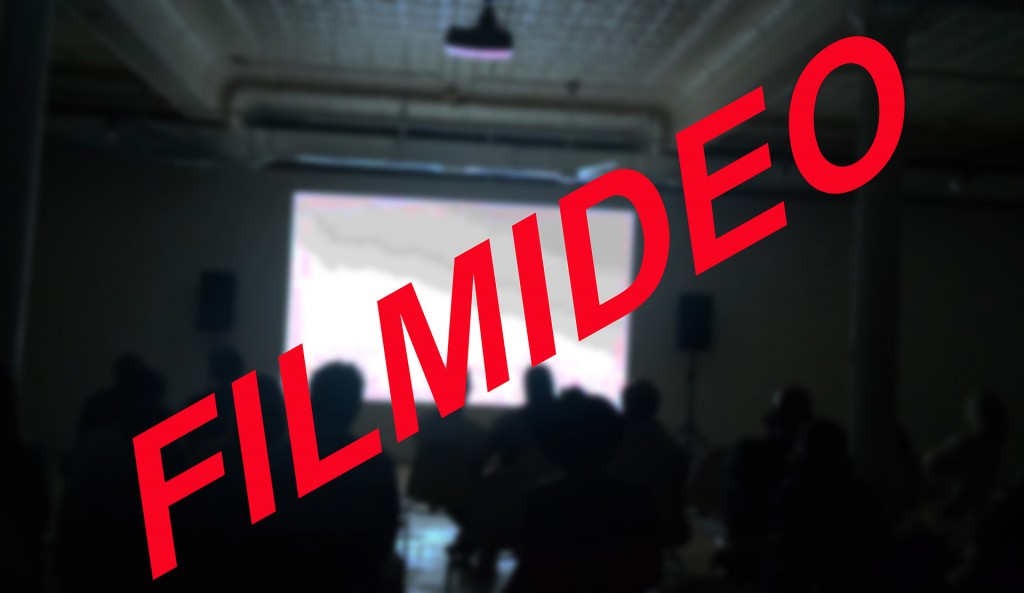 Anne Dushanko Dobek: Promises, Promises (NJ) 3:51
A surreal overview of several installations referencing the sex trafficking of children.
Tracy DiTolla: Skewed Consciousness (Wyckoff, NJ) 5:41
Explores skewed childhood memories tainted by Catholic guilt.
Dina Fiasconaro: Pucky's Pappagallo  (Baltimore, MD) 5:00
A short documentary/personal essay about my grandmother's hair, and the impact it had on both her and our family.
Ursula Pelczar: The Blessing (UK) 3:29
The video invites the viewer on a hypnotic journey through the process of self-discovery. While "The Blessing" mimics the structure of a TV Beauty Makeover Show, it explores the intersection of spirituality and self-enhancement. Why do we strive for 'the better'? What is 'the better'? Is a state of mind another commodity we can buy?
Emmanuel Manoli Vozos: To Build A Fire (Union, NJ) 7:21
Adapted from Jack London's classic tale of survival in the wilderness. Shot during a real blizzard.
Heath Schultz: Typologies of Whiteness, White People Love Police (Austin, Texas) 5:22
The experimental film is constituted of appropriated images varying from popular music to protest footage. The film is my attempt to locate the linkages between white reactionary politics, liberal apologetics for police, and structural violence of whiteness.
Sinasi Gunes: Anatolia (Istanbul, Turkey) 2:21
In the video-work Anatolia,  acts  of  covering and  wrapping  are  not  personalised.  Cultural  layers of  the  past do not reach  as  far  as  the  cultural  diversity  of  the  region  of  Anatolia.  The  covering of  the  model  here  is  gestural.  However,  different  social  roles  are  questioned  to  point  to  the feminine  in  this  work.  The concept  for  the  video-work  refers  to  the  issues  of  taboo  and privacy  in  addition  to  the  cultural  diversity  of  Anatolia itself.                                                                   
Lingyun Zheng: A Tomato Is Not A Tomato (NY) 4:41
A Tomato Is Not A Tomato is a mood piece reflecting the director's feeling of growing up in anintercultural environment. In this film, the balloon represents her past in China (childhood and hometown) while the tomato represents her present days of uncertainty in New York. The transformation of these elements symbolizes the entanglement of present and past. The feeling of alienation is expressed through the transformation as well as the floating space from New York to China. And the red color inherits the symbolic meaning of itself in China's communist revolution, which conveys the feeling of fretfulness.
Heather Stratton: American Defiance, Pray for Us (Lexington, Kentucky) 3:30
Traveling to the Bible Belt, I heard a most beautiful and entrancing litany of the Blessed Virgin Mary on an Ohio radio station, the Sunday afternoon following Thanksgiving of 2016. The voices held me captive as I drove through a massive wind farm, fighting against becoming entirely mesmerized by the pairing of the liturgy and larger than life wind turbines hypnotically swirling with the landscape like an evenly spaced out congregation in white robes, emulating a choir of crosses thrust into the heartland. The current political and cultural climate of the United States is in a way, stuck in limbo as we await the official appointment of our new President-Elect, leaving our country more divisive and divided than we have been for many decades. No matter what side of the political spectrum you are, one thing I think we can all agree on is that we need forgiveness and understanding. We need someone to pray for us.

Patrick Moser: The Game (St .Augustine FL) 2:22
Quinn Lachler: Losing It (2015) (Buffalo, NY) 2:19
A short experimental piece on the ecentricites of focus. There are several compositions that change as focus slowly fades and entropy becomes dominant.
Michael DiFeo: Title Redacted (NJ) 1:51
An animation where I explore the intersection of memory, paranoia,
espionage, and delusion.
Anaïs Duplan:  I Think That I Can Love It (Jacmel, Haiti) 2:24                       An experiment in melding the video screen with the page-of-text, the videos feature a line-by-line feed of two poems: "I Think That I Can Love It," about the freedom or lack thereof the Black female body and "Why Does It Feel Natural to Want to Be Stable for the Lady in the Mirror?" a poem on gender instability in the age of social machinery. Each video-poem is set across found footage from archival and/or educational films, often featuring black-and-white images of white people in idyllic situations, volcanic eruptions, physical conflict, running in fear, running with semi-joy, and abstractions of light.
Andrea Leoni: Line (Rome, Italy) 3:35                                                                                A line develops and marks its surrounding space in search of a composition strategy: it multiplies, enlarges, stretches increasing its size up to create more and more complex shapes. It invades all the space around striving to expand further, yet it will go all the way back, forced by a representation limit, to its simple and basic initial state.  
Josh Jordan: BREAKTHRU – 1992 (Brooklyn) 4:47
 —————-INTERMISSION——————
Nancy Daly & Kim Llerena: Baby Rasta (Washington, DC) 14:12
Baby Rasta is the story of a drug kingpin/philosopher of logic/world class athlete/inventor of a future Olympic sport, as told by Dr. Robert Portada, a university professor/world traveler. At its core, Baby Rasta suggests that the line between truth and fiction is hazy – especially after a hashish binge in a tiny unnamed bar in the back alleys of Barcelona.  
Cristobal Catalan:  No Man's Land (UK from Spain) 3:33                            Made entirely of still images and hand scribed digital animation, 'No Man's Land' is a surreal journey into the dynamics of deterritorialisation, dispossession and transmigration as a form of pilgrimage.
Barry Whittaker: Throwing Things at the Sky To See if They Stick (OH) 2:58                                                                                                                                                          The sky is important symbol across the globe. Among its many illustrations, the sky is frequently used to signify progress, adventure, hope, or dreams. As a child, I frequently questioned the logic behind filling the sky with buildings and advertising. This blocking out the sky seemed an alien idea to me. Who has the right to sell the sky? In the name of progress and profit, humans regularly fill the sky with structures, signals, smoke, and satellites. Throwing Things at the Sky to See if They Stick is a video project about the ever-changing sky-scape and the imprint humans have made on it.    
Daniel Alexander Smith: Static Wave (MA) 1:09
A wave made of white noise is a fluid form composed of nothing.
 Dillon Lemon: Ascidia (US) 3:39
 Emelie Mahdavian: Intangible Body (USA) 2:44
This experimental film explores censorship of Iranian women's dance performance and what constitutes a woman's "body" in the digital age. Given that women "dancing" in public is illegal in Iran today — and even animated movies are censored — we set out to play with the edge of what constitutes a body, a dance, or an Iranian woman…    Created via motion capture composited with video, the film has three layers, each representing one aspect of the dancer's body, but without any video of her figure appearing in the final film: the motion capture figure is controlled by an algorithm tied to the speed of the dancer's movement; the music is entirely sampled from her voice; and the fabric with which she danced was isolated in the video via chroma keying to create a residue of her interaction with a prop that invokes the presence of the absent dancer.
 Mores McWreath: Spot 270 You (NY) :15
The Spots Series is an ever growing body of video art made up of 15 or 30 second "spots" that use the shape of commercial advertising as the container for a subjective exploration of the contemporary world.  Videos are produced and distributed on a weekly basis allowing for a timely response to the events unfolding in the world today.  Subjects range from the hopelessness of privileged white liberals, the desire to avoid politics through self-improvement, wish fulfillment fantasies, Citizen Kane, fear of rejection and the desire to find connection.  There are currently 85 videos in the series and they are very flexible in the way they can be shown including in groupings, individual loops, or dispersed throughout a screening. 
Kahori Kamiya: Job Interview (Pearl River, NY Originally from Japan) 2:46                                                                                                                                                         This video is comprised of four elements: my husband's first parting memory, a ritualized performance concerning the disposable human identity, the Job Interview text messages intervening to force a revelation, and Ave Maria song.  All of these elements combine into a united psychological symphony. "Job Interview" attempts to interrogate the established economical society of copy-paste "labor" and the endless cycle of devoted employees like a karmic system. 
Emilia Izquierdo: CAVE (UK) 2:18
Cave (2017) is a loop video animation that refers to extreme situations in which it is difficult to distinguish between anger and pain. Using key moments in 3 extracts from Martha Graham choreographies the piece explores release and constraint through movement: Clytemnestra and Medea's (Cave of the Heart) dance of revenge and Lamentation. The piece addresses this state of desperation and entrapment of our body and the need of release exploring this way human issues that go beyond technology and social systems. 
Kathleen McDermott: Memorial For Bad Jokes (NY) 4:18
Memorial For Bad Jokes is an exploration of the relationship between the artist's mortality and electricity. The constructed environment within the video functions as a purgatory and as an absurdist procession performed to the rhythms created by a cast of wearable electronics. "I Thought It Would Be Funny," is a death shroud made of LED lights, pulsing based on a simple timing circuit. The lights blink in time with a capacitor's discharge and function as a visualized heartbeat, but one that continues even as the wearer dies and is revived. Time is also kept by "The Little Drummer Boy," a wearable mechanical drum stick strapped around the artist's waist, and "The Public Speaker," a shawl covered in speakers that plays a recording of the artist screaming. "The Social Escape Dress," passes through, emitting a cloud of fog through a wearable system of vaporizers and aquarium pump motors.  These multiple representations of the artist speak to both the multiplicity of identity in the digital era, and to an ongoing interest in the relationship between machines and nonsense. Machines, video and editing by Kathleen McDermott. Sound design for this piece was done in collaboration with Senem Pirler. 
Michael Szpakowski: One Kiss of Mine (UK) 2:14
A kind of afterthought following on my 12 remixes project. In 2014 I made a rather electronica heavy arrangement of the traditional ballad Barbara Ellen, which my daughter sang. In 2015 I remixed the track and created this video to go with it. The track title features an excruciating 30 year old pun. 
Noelle Fitzsimmons: Stay Still (Austin, TX) 5:24
Questions the differences between subject and photographer; and the borders that distinguish us from one another. 
Mores McWreath: Spot 921 Not You (NY) :14
 Oscar Lebeck: Laurieston (Germany) 2:08
The human image is becoming more and more an impression culture in our society. The self-presentation takes on ever more radical and egocentric features. How can one counteract this and where does the self-portrait of an artist differ from self-production in the digital world?  In the work "Laurieston", the artist perceives himself as a subject and simultaneously becomes an image-subject. They give the impression of a snapshot of the control of themselves. The tree is anchored with a wire rope. This anchoring is primarily intended to prevent strong and jerky movements caused by the wind. It serves as a support and is not immediately recognizable. The bracing with wire behaves dynamically and requires a constant active balancing. 
Chao Heng Yang: Search Within (UK)  2:30
SearchWithin is a short film that disrupts visual and ontological perception. Virtual images simulate reality, while reality blends with virtual supplements. They approach each other and meet in the uncanny space: the gap. The gap is like the slit between the wall and the bed, collecting daily dust, hairs and biscuit crumbs without people's consciousness. The gap, an intermediate space, a spectrum between fact and truth, is where fictional narrative develops its fantasies. 
Patrick Moser: Rake Hole Dancer (St Augustine, FL) 2:33 
Josh Jordan: MODERN GIRL –  2004 (Brooklyn) 4:50
—————–INTERMISSION———————
Yael Azoulay: Please Break My Heart (Brooklyn) 18:14
In February 2016 I auditioned and hired an actor to break my heart. We entered a relationship in which the camera was present at all times, until we managed to forget it was there. Please Break My Heart examines the line between fiction and reality – if there is such a thing – through creating an image that is not entirely false, but is deceptive. 
APOTROPIA: Sense of Place (2015) (Italy) 5:00
The term "sense of place" may describe both an arrangement of features that makes a place unique and the sensation and perception of place as experienced by the living bodies that belong to it. The body is our general medium for having a world and our relationship to space is inevitably connected with culture and shaped by the kind of bodies we have. 
Mauricio Sanhueza: Parasite (Peru) 6:23
Throughout the centuries dreams have been to many cultures around the world the images that speak of the future. In modern times dreams were seen as a connection to the unconscious. Today these morbid and extremely disturbing dreams are associated with the symptoms of a mental illness. This video is a free version of The Labyrinth of Crete in which the myth of Theseus and the Minotaur are reflected in a single character. 
Szymon Krzyżanowski: VHS (Wołomin near Warsaw, Poland) :52
The "VHS" movie consists of a series of carefully arranged frames. Each one of them has been converted in such a way as to have the character known from the Video Home System. The film presents raw suburban areas which would have a completely new impact on the viewer when presented in fullHD or 4K. In this case, in accordance with Marshall McLuhan's theory, the form determines the reception. The paradox of "VHS" is that its 1920×1080 resolution, amplifies the intended impression, at the same time distancing the movie from the video format. "VHS" shows perfectly, how the form and strictly technical aspects undeniably influence the reception of an audio-visual work.
 Vasco Diogo: May I Dance (Lisbon, Portugal) 3:54
Wednesday Kim: The Birth of Tragedy (South Korea, Currently in North Dakota) 1:52 Trauma from Korean public spa.The hidden forces of the unconscious blend with traumatic    memories and incoherent mixtures from my subconscious mind, forming bizarre images,      which appeared in my daydreams and night dreams. 
 Monika Rostvold: The Color Red Makes You Hungry (NY) 4:17
A reaction piece after doing a month long performance piece/ art of experience at a strip club. Documenting the physical and psychological transition into the persona "Mona"
 Zlatko Cosic: St. Louis Spin (Trumpo Mix) (Yugoslavia-USA) 2:00
Abstract explorations of society.
 Yael Azoulay: Auditions For Please Break My Heart (Brooklyn) 5:16
This is video is part of the project mentioned above but could be screened on its own. due to the nature of the project it might work well to show both videos. 
Josh Jordan: SOMEBODY TO LOVE – 2016 (Brooklyn) 5:01